8 REASONS YOU SHOULD USE SOCIAL MEDIA TO PROMOTE YOUR BRAND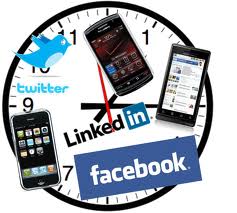 Everybody's There Already
Social media sites have hundreds of millions of users and a handful of them are among the most visited websites on earth. A large number of users check their profiles daily to see what's going on and they're growing in leaps and bounds. If you're there, you can be in daily contact with them.
Excellent Branding Opportunities
These sites put you in direct communication with your customers and there's simply nothing better for branding your company. Your customers can have a personal dialog with you.
Listening Stations
Social media also offer wonderful market research opportunities. Regular engagement with your fans, followers and group members enables you to find out their needs and gives you the unique opportunity to give them exactly what they need.
Lead Generation
You can use social media sites to get more customers. People will see your posts and hear about you from their friends. Plus, you get global reach 24/7 not only to your fans, but to their fans, and their fans, and their fans…
SEO Benefits
Profiles, updates and other social media content appear in search engine results pages and often rank quite high up. This is one of the biggest ways that people will find your fan page and/or profiles. You also get backlinks coming into your site from your social media content.
The Personal Touch
Your social media presence and interactions with your fan base give your company a personal touch. People like to know who they're buying from.
Easy Promotion
Social media sites offer the easiest way to reach everybody who might be interested in your sales and promotions. With one update, everyone you're connected to knows instantly when you have a special offer.
Rewarding Customer Loyalty
You can use social media sites to reward your fans' loyalty by offering exclusive discounts and freebies that are only available to them.
Before you get started, it's important to have clear goals. What do you want to do with your social media presence? What action do you want your fans to take? Stay focused on these goals and devote some time each day to building your social media presence.