TIPS TO IMPROVE YOUR WEBSITE ACCESSIBILITY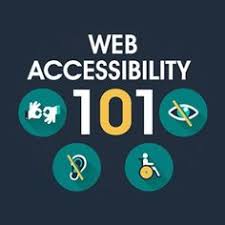 Have you ever thought that the visitors landing on your site could encounter various problems? We hope you have, and if not, you should start as soon as possible. Remember, more than 70% of your prospective customers will go to your website for information before calling you. Let's make sure that they do, indeed, make that call.
In the past, creating a fantastic web design was a relatively easy task, you only had to make sure the website displayed well on Internet Explorer, and you were good to go. Today, things are very, very different. Users have so many devices and browsers to choose from, you absolutely must offer a great experience no matter what they want to use.
It is your responsibility to make your website accessible to everyone and put the user at the center of the experience. You have to make sure everyone has access to your website and can easily understand your value proposition and navigate through your site. And, you need to go beyond the basics – today, a percentage of your customers may have special needs – a user's age may have created auditory, and visual difficulties that must – especially in an aging population, be addressed.
The Importance of Website Accessibility
Is it really worth the effort?  Yes, and there are more than just a few reasons:
Increase your audience
Increase usability
Improve your image online
Improve SEO
There are a few things you can do that will guarantee easy access to your website despite a person's abilities. We have gathered together a list of four simple and practical guidelines to improve your website accessibility for all users, guidelines our team of web designers and developers at GLBDD follow to create great websites for our clients.
Don't Rely Only on Color
When we think about web design, the first thing that crosses our minds is color. We must admit that color is the most powerful tool we can use to communicate certain messages, emotions, and feelings on the Internet. For example, we all know that red can mean that something is wrong or creates a sense of urgency, while green is associated with something good, health and tranquility. These two colors are used to complement a confirmation message or an error on a contact form on the website. Even if the psychology of colors is one of the most powerful marketing tools, depending entirely on colors to express a message on your website is not a good practice. Have you thought about people affected by color blindness?
According to a study revealed by Vision Technology, about 7% of the male population and 4% of the female population of the United States suffer from red-green color blindness. Consider this fact when designing your website and don't just rely on colors, but also on text content.
Do Not Disable Pinch & Zoom on Responsive Design
Website accessibility is also about responsiveness. It is true that we are living in a multi-device world. When designing websites for the transportation industry, it is crucial to have a beautiful, responsive design to improve your presence online. With this in mind, some web designers and developers disable the ability to pinch and zoom a page since everything on the website is in its place. Unfortunately, this practice can raise some accessibility issues. You want everyone to access your content, right? Then the ability to zoom should be enabled. There are many people suffering from astigmatism, not to mention the blurry vision that can affect everyone, no matter the age. The ability to zoom in on a page will make their experience with your website better than your competitors'.
Or you can work with a team of professional web designers and developers. If you are interested in learning more about our website service, please contact GLBDD today!
Consider Alternative Content
The most important principle of website accessibility is to provide content available for everyone. Yes, especially to persons with special needs. Images are crucial for a website, we all know that. A beautiful picture helps you express a strong message. But what about the people who can't see your image due to visual or cognitive disabilities? Alternative content helps you provide a textual alternative to non-text content (images, for example). Screen readers will read the alternative text in place of the image allowing the content to be available to everyone.
The context here is the most important, so you must pay attention when choosing the right alternative content. An alternative content should be succinct, accurate, and should not be redundant or use phrases such as "image of…," "graphic of…."
The rule of alternative content is also available for audio and video files on the website.
Make Navigation Accessible
It is important to create a web page which is logically structured, easy and intuitive to navigate through. To have your website provide easy access to the information on your website is important to take into account some simple, but often overlooked techniques.
Using proper content formatting will help screen readers understand how information is outlined. Use familiar words and phrases for the menu.
Dropdown or flyout menus are another great way to reduce clutter on the web page and make it easier to navigate.
Pay attention to links! To make your website more accessible for users with special needs, be as descriptive as possible; you can use certain phrases when inserting links, for example: "Click here to read the article" or "learn more about this article."
Conclusion
Making a website accessible depends on several factors – the content of the website, its complexity, its purpose. When designing or redesigning a website is important to ADD accessibility to your strategy from the very beginning.
So, why did we think it was important to share all this technical "stuff" with you?  Creating a website that works for your company goes far beyond grabbing a WordPress template, adding images and having optimized content (your content is optimized, isn't it?). This is Website 101 – pay your teenager to build a site for you or buy a ready-made template for a couple of hundred dollars.  For some people, being like thousands of others and not standing out is okay.
But, if you are running a company and you are serious about competing in a very, very competitive and changing market, intend on beating all challengers, and if you are spending money on building a website, THEN BUILD A REAL WEBSITE.  As our clients will tell you, we design beautiful websites. Our staff makes sure that we build your website correctly so that you provide a great user experience AND attract Google's attention.
Your website is your digital marketing foundation – deliver the right message to EVERYONE landing on your site quickly, effortlessly, no matter what device they are using to learn about you.